Hello again, everyone!
As always, I am thinking of my next project before I have finished my current one.
In the past few months, I have gotten into a wonderful Japanese graphic novel and television series called
Victorian Romance Emma
. It's about a maid in 1895 London who falls in love with a wealthy merchant's son (with no relation to Jane Austin's
Emma
)
This is Emma, and her uniform which I want to recreate (and I apologize for how small the pictures are):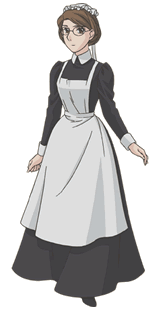 I know it seems easy enough, but which patterns should I use for this? The 1898 Walking Skirt would probably work well, with several heavily starched and ruffled petticoats, but what work best for the bodice? And how would I recreate the apron and cap? Here are pictures of the cap; I couldn't find any of the apron's back: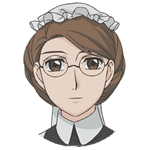 I suppose the cap wouldn't be too hard, with a large circle of fabric gathered into a "pouf" with a circular ruffle as trim, and a small bow with long tails sewn on the back. The apron is something else, since i don't know exactly how I would create it. Did period aprons have any seams on the lower sides, or were they made from one wide piece of fabric, gathered to fit the waistband? The pictures above show the apron as narrower than it is typically illustrated; usually the apron sides end more at the back of the skirt, rather than at the sides.
I have a sketch of what the back of the apron looks like; I'll post that soon.
Thanks,
Alex