Hi everyone,
I have some slightly better pictures of my finished walking skirt. I look rather cross in the photos because my sister was being a bit difficult, and she was rushing the pictures. Oh - and I haven't shaved for a couple days
. The skirt is green twill, with white cotton sheeting for the lining and white cotton duck hem facings.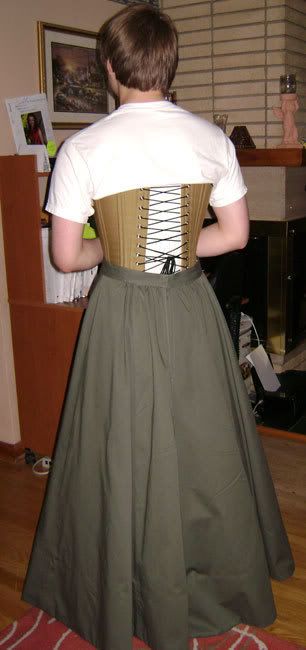 I inserted a large pocket in the right side/side back seam. As mentioned in the other thread, I did the hem by hand over the course of a week. I LOVE flatlining! I would never be able to do a good hidden hemstitch without a lining. The only thing I need to fix is the opening in back--the hook and bar aren't in perfect alignment and the opening gaps a little; I need to move the bar over.
I'm wearing pair of (men's) flat-heeled, brown ankle boots. I need to polish them badly and have the soles resewn but they will work until I can afford the Harr boots. However, the hem is the perfect height (1 inch or so) off the floor with these boots.
The skirt would pouf out a bit more but I haven't had the time to starch the petticoats. I'm sure it'll look better then. Now, to get started on the bodice....
-Alex